Michel Duchesneau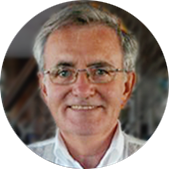 Graduated from the University of Montreal with a Baccalaureate in Science (mathematics) and a Master of Arts (teaching in mathematics), Michel Duchesneau taught secondary school mathematics and micro computing for 35 years. He also taught future teachers of mathematics at the teaching center of Rabat in Morocco for two years. In addition, he was responsible for off campus courses for the University of Montreal in the training program for computer science teachers. Since retiring, he has been involved occasionally as a poll center supervisor and as an adjunct poll director during federal elections.
He served for many years as Director, then Vice President of the Board of Directors of the Universal White Brotherhood of Canada and of the publishing house Editions Prosveta. He is currently the administrative head of the brotherhood group of Laval which includes fraternity members from the Montreal region. He has three grown children and five grandchildren.
"On the eve of our departure for two years of work abroad, my brother in law informed us of his connection to the brotherhood and gave us the names of people we could contact in Morocco. Jocelyne (my spouse) and I developed excellent relations with them during those two years, but the conscious search for a spiritual master was not one of my preoccupations at that time. On our return, however, I was intrigued to discover a dynamic group of this same brotherhood whose devoted members manifested an astonishing enthusiasm. Unlike the child who refuses to try some spinach, the first time someone proposed it, I went to find out what motivated them. I alternated between the sense of having found something lost or long forgotten and my misgivings about spiritual movements. For some time, it was like having two captains on board: one who overrated human gains, observation and problem solving, and this new captain who steered towards a new horizon with new and apparently more reliable navigation tools and points of reference.
The love the Master radiated as well as the clarity and coherence of his words, nourishing his listeners with a profound teaching, dissolved my hesitations, especially when he described the nature of the soul and spirit, these dimensions of our being which we often neglect, unaware of the qualities and virtues we are to develop if we are to obtain all their riches.
And there I was: the words eternity, immensity, truth, wisdom, high ideal, divine love and light penetrated my thoughts and gave meaning to my narrow life as a self-reliant, ordinary person.
It took me several years to sufficiently assemble the pieces of the puzzle and finally gain a glimpse of the message in its entirety, so vast was the richness, variety and depth of the subjects the Master addressed.
Each of us draws from this teaching the elements we find stimulating. For my part, here are some of those that have touched me and guided my daily life: 
- The knowledge that our consciousness in the present moment prepares a glorious future…
- Working each day with what is flawed in ourselves and with those around us, recognizing the virtues and qualities which define us as children of God…
- Opening to the light instead of fighting the shadows; otherwise we connect with the forces and the entities which support them.
- And LOVE, LOVE, LOVE…
There is nothing more effective, as we experience our many failures, our remorse and reforms, as well as our moments of peace, pure joy and grace. The idea of victory, motivating us each day to hold fast to the ideal proposed by the Master, continually helps me. He teaches us that: "Joy is not found in the fact of acquiring something, but in the fact of going forward, of advancing. A philosopher once said that happiness is like a ball we eternally kick before us. Joy is hidden in hope, not in the end result." »
I still remember the moment I asked whether I could do more for the brotherhood. The response was immediate, and since then, more than thirty-five years of my life have been dedicated to the realization of a collective ideal. I discovered there is nothing better to break up routine or to put off procrastination until tomorrow! The teaching for one alone is good, for two together it is better, but for a group of followers it is far more stimulating and effective. The examples of sensitivity to the invisible world, of the joy in collective work, of sharing and giving of oneself, of the sincere seeking of brothers and sisters, as well as the love shown for everything that is luminous, renders more evident all that is perfectible in oneself.
I can never adequately thank my spouse, an angel, for having been so respectful and patient with me in the beginning, and for her tireless support of my engagements and responsibilities since then.
If chance exists, I would be infinitely grateful for having been inscribed in the list of winners of this great universal family, but I prefer to believe that my choices in the past have led me to the Universal White Brotherhood. I thus bear with pride as my destiny the teaching of this Master of Light who is Omraam Mikhaël Aïvanhov .
Michel Duchesneau
Laval, Québec, Canada