Blagoslovénié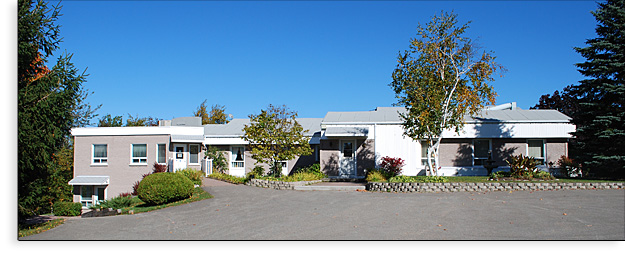 Blagoslovénié 
In 1984 the Universal White Brotherhood acquired a magnificent property located in the Eastern Townships of Quebec (Canton-de-Hatley). It was during his last visit to Canada in 1985 that the Master consecrated this domain and gave it the name Blagoslovénié, or 'All Blessings'. Established on a former golf course, this fraternal center is intersected by numerous wooded paths, inviting us to discover its great riches. On their promenades, walkers can experience its special aspects and sense the silent presence of the elements of nature.
The Master liked to say of Blagoslovénié: 'Billions of the most extraordinary entities live here… Go, walk the land, explore it and put these entities to work.'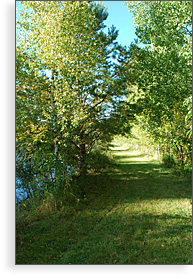 '[…] And when you enter a forest, or any place in nature, you should be aware that there are conscious and highly developed beings there who can see you. It is important to make contact with them and to let them know you are grateful for their work. And when they feel your appreciation, they will dance before you and perhaps even give you gifts -- of vitality, joy, poetic inspiration or clairvoyance...'
Covering more than one hundred acres and bathed by seven small lakes, the Domaine Blagoslovénié is graced by the diversity of its land and vegetation, described by the Master as magnificent and vivifying. A feeling of peace and renewal satisfies and delights those who come here, whatever the season. Dells, glades and little valleys, clearings and thickets charm the nature lover, each unique in color and atmosphere, ever changing. At its high point, the land presides over a vast panorama and the rising sun, with the Appalachian Mountains in the far distance. Solidly situated on bedrock, Blagoslovénié is also blessed with several underground springs, perfect symbols of the life flowing in abundance here.

It was the Master's wish that this be a habitat for birds, and that efforts be made to attract them. They are much loved. Especially enchanting are the Scarlet Pingara and Indigo Bunting and their songs of joy in chorus. Other common species include the Eastern Blue Jay and American Bluebird,  Tree Swallow, Eastern Kingbird, Baltimore Oriole, White-crowned Sparrow,  robins, cardinals  and many families of woodpeckers. As day dawns, these delicate winged creatures grace the surroundings with their jubilant melodies.
Diverse vegetation, wild and abundant, grows in a wholesome and protected environment. Blackberry, hazel, alder and raspberry intermingle with a multitude of hardwoods -- ash, maple, beech, cherry -- and varieties of birch such as willow and poplar. This exquisite blend of nature, sways with the wind and invites beautiful inspirations as the walker spots a magnificent linden or a hardy walnut. Conifers, pines, spruce and firs – these giants of the forest share the limelight, their boughs protecting creatures large and small who come to the lakesides in search of fresh water. When startled, a migrating flock of ducks suddenly takes to the skies.
Life abounds at Blagoslovénié, for collectivity and individual alike. Its facilities include permanent housing for several dozen residents and accommodations for up to one hundred participants during brotherhood meetings. Growing needs recently led to a significant enlargement of the main building, inaugurated with celebration in March of 2010. The center also provides settings for various community needs, such as the meeting hall, common rooms, and outdoor grounds designated for meditation at sunrise, gymnastic exercises and the sacred dance, the Paneurythmy.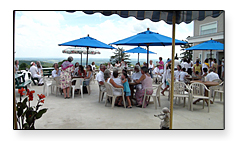 A terrace adjacent to the main building offers a panoramic view of the rolling hills, adding special pleasure to moments reserved for fraternal exchanges. Two hotels, a dormitory and campground host a good number of participants during assemblies. An agricultural building, including a bakery and equipment for processing and preserving proceduce from the gardens and orchards,  is an important facility that provides quality foods to the community throughout the year.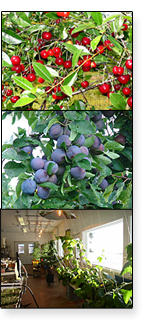 For thirty years the Canadian brotherhood has engaged in responsible, organic agriculture within an ecological framework. Plant selection, crop rotation, companion species and natural fertilizers are among the choices and labor-intensive processes that ensure a way of life respectful of nature. Help from the collectivity with soil preparation and work in the fields, gardens and greenhouses is also of great benefit from several perspectives. At Blagoslovénié today, some 100,000 square feet of land are under cultivation, supporting a variety of root and other vegetables, herbs, perennials and other flowers. The greenhouse and hotbeds allow for early seeding. A young orchard consists of diverse fruit trees adapted to our climate. Apple, pear and cherry blossoms captivate iridescent butterflies until the young fruits appear.  Largely used during meetings and conventions, this flavorful and nutritious food is welcomed as a precious gift of nature.
To date, with many projects completed and many more in the planning stages, Blagoslovénié continues to grow and evolve.
---