Roméo Paquin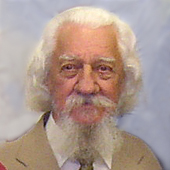 It was in the summer of 1975, at the Universal White Brotherhood center called the 'Bonfin' in the south of France (Côte d'Azur), that Roméo Paquin, an instructor of Hatha Yoga for almost twenty years, first met Master Omraam Mikhaël Aïvanhov. From their first exchanges, their souls became reacquainted and were tuned to one another.
These meetings with someone he recognized as 'his Master' were for Frère Romeo a source of extraordinary inspiration. He returned from this visit profoundly touched by the limitless divine love and immeasurable wisdom that emanated from this great being. Gradually, the desire to emulate him, to become radiant and above all to make his Teaching known in Canada became his principle motivation, to which he wholly dedicated his life.
Under Frère Romeo's presidency, a brotherhood center north of Montreal (Laval) was created in the beginning of 1979 and given the name 'Radost' by the Master, meaning 'joy'. Gradually over the years, brotherhood centers opened in most regions of Québec.
It was during the Master's visit to Canada in l984 that he officially designated the property 'Blagoslovénié', meaning 'all blessings', as the headquarters of the Universal White Brotherhood in Canada. Situated near Sherbrooke in the southern region of Quebec province, this consecrated center is dedicated to making known the teaching of the Master Omraam Mikhaël Aïvanhov.
If, over more than forty years, all of this has been accomplished, it is due in great part to the boundless determination, devotion and veneration of a disciple totally dedicated to his Master and to the immensity of his great work.